---
New Intellivision? - PinKy - 03-17-2019

The Amico is set to be released in October of 2020.



This is what they say they are offering:

INTELLIVISION AMICO™ FEATURES AND INFORMATION:


PRICE RANGE (RETAIL)

US $149 - $179


NORTH AMERICAN, UNITED KINGDOM AND EUROPEAN RELEASE DATE

October 10, 2020 (1010 2020)



SOFTWARE OVERVIEW

All games are family friendly and rated "E for Everyone" or "E10+".

Every game version on the console is EXCLUSIVE.

Quality over quantity! All games must past a strict quality control seal of approval.

Balanced gameplay and design for Equal Opportunity Gaming™ for all.

All games are downloadable and between US $2.99 - $7.99.

No costly DLC (Downloadable Content) add-on's or "In-App Purchases".

Launch to include several built-in reimagined Intellivision Classics (pre-installed in every console) and over 20 games including both reimagined industry classics and brand new exclusive titles via the Intellivision Online Store.


CONTROLLERS

2 wireless Bluetooth controllers (up to 8 player compatible and connectivity).

3 ½ inch (2:3 aspect ratio) Color Touchscreen.

Pioneering tilting positional disc with surrounding interactive LED border.

4 arcade-style tactile feedback buttons.

Gyroscope & Accelerometer.

Force feedback.

Controller to be used horizontally or vertically including dominant left or right hand usage.

Qi (pronounced "CHEE") wireless onboard charging.

Speaker

Microphone

Free downloadable app enables mobile phones as additional controllers (up to 8 players).


HARDWARE & TECHNOLOGY

State of the Art 21st Century 2D Image Processing and Graphics Capability

Intellivision Prism™ Onboard Interactive Lighting Technology.

WiFi/BT & Ethernet Connectivity.

HDMI Video Output.

Multiple USB Ports

System Expansion Interface.


ONLINE

Intellivision Online Store for the ability to purchase additional software.

Multi-player online gaming and structured multi-tiered tournament play.

Time & Space Leaderboard System™ which includes high scores by locations and calendar.

Trophy/Achievement rewards system which awards unique accomplishments to each player.


REIMAGINED GAMES

Includes updated graphics, modernized audio, additional levels, multi-player modes (local and online), tournament modes AND MORE!

Intellivision Classics REIMAGINED and REMADE EXCLUSIVELY for the Intellivision Amico™: Astrosmash™, Shark! Shark!™, Baseball, Night Stalker™, Skiing, Math Fun™, SNAFU™, Utopia™, Frog Bog™, Boxing, Bowling, Triple Action™, Tron Deadly Discs™, Cloudy Mountain: Crown of Kings, Star Strike™, Horse Racing, Auto Racing, B-17 Bomber™ AND MORE!

Atari Classics REIMAGINED and REMADE EXCLUSIVELY for the Intellivision Amico™: Pong™, Asteroids™, Centipede™, Tempest™, Adventure™, Missile Command™, Yar's Revenge™, Breakout™, Lunar Lander™, Night Driver™, Sky Diver™, Warlords™

Imagic Classics REIMAGINED and REMADE EXCLUSIVELY for the Intellivision Amico™: Microsurgeon™, Atlantis™, Demon Attack™, Dracula™, Beauty and the Beast™, Ice Trek™, Swords & Serpents™, Dragonfire™, Truckin'™ AND MORE!


Other Games REIMAGINED and REMADE EXCLUSIVELY for the Intellivision Amico:

Miner 2049er™   ToeJam & Earl™   Super Burgertime™   Bad Dudes™   Caveman Ninja™    Moon Patrol™     R-Type™  

10 Yard Fight™    Lode Runner™   Spelunker™   Kung-Fu Master™    MotoRace USA™    Tropical Angel™   Archon™




This is Retro!




---
RE: New Intellivision? - FFTHEWINNER - 03-17-2019

I...am not certain what this thing is exactly. seems like a hybrid of a mini and a new console. the "all games are exclusives"part is the weirdest. also,where are the actual specs lol?
regardless,it is obviously a kids system. they even specifically say that there will be no T or M games on it. i think this is basically the new sega pico.


---
RE: New Intellivision? - CMR779 - 03-17-2019

They are essentially trying to replicate what the Wii started out as.


---
RE: New Intellivision? - PinKy - 03-18-2019

Intellivision Devs are scary.

They might wow us with those controllers, go cross platform and compete with MS , who knows

I think there is an app for this anyway


---
RE: New Intellivision? - Sabkahn - 03-19-2019

With those restrictions on Software, especially the price Range, this thing is set out fail harder than a NASCAR Driver wiping out half the field in Lap 1. 

Really, with being restricted to 7.99 USD as the highest price they must have a crazy Install base for even Indies being able to make a Profit. Just looking at the " Games REIMAGINED and REMADE EXCLUSIVELY for the Intellivision Amico" Section shows how crazy this is. 

The just recently released Toejam & Earl Remake / Reimagination (what else do they whant to do here?) is 19.99$
Archon Classic is 9.99$
Lode Runner Legacy is 11.99$

All US Steam Prices, I honestly can´t see them lowering the prices of these games just because someone said that a game can´t cost more. 

Surprised to see Tron Deadly Discs in their list, last time I checked Tron is still a Disney license and considering how little interest Disney seems to have in  the Videogame business I can´t see them just giving away the rights to their IP.

And if I understand the little Hardware Info they give correct this thing will be mainly / exclusively a 2D machine. This, in my opinion, has only a chance to work if they get a good amount of beloved Arcade Games exclusively on their System, and I don´t see that happening anytime soon. 

Why the heck do they think that their controllers need a Gyroscope & Accelerometer for 2D games? Those Gimmicks where terrible in PS3 games and even most Wii games aren´t well designed for that. 

And the Team behind? A Train Wreck. At best. They don´t list a Single Person that is actually developing something either on the Hardware or at least Software side of things. Some of them might be Involved in that, but their Promo Vid doesn´t tell us that.

And Speaking of the Video: One of the worst Promos I have seen. Not a Single Frame of gameplay for anything was shown, not even a bad 3D-Print mockup of the case is shown, if they whant to launch this thing with 20 Games avaiable in just about 1.5 Years they should be able to show us something by now.

The only thing I could find is what looks like a working Prototype of one of the controllers, but the Screen shown is so badly slapped in with Photoshop that it isn´t even funny.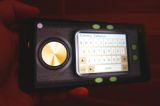 ---
RE: New Intellivision? - FFTHEWINNER - 03-25-2019

told today a couple of gamer friends about this one. one of them laughed SO HARD lol XD


---