Good thing i had copy of my old guide in form of text document , so  here goes . . .
Simple general guide for Burning PS1/PS2  games using "ImgBurn" program :
1.Find and download game ( place all parts of game if download is in parts in same download folder ) , make sure that you check will game will work for you by checking uploader info and comments  on what method game is tested to work , or if it is tested at all , what are issues of game and how to solve them .  Also make sure all parts are downloaded completed and without errors . In case of troubles , try some other browser , check your connection , turn off things that may disturb download ( like you browsing lot of things , watching movies , playing some hardware demanding game , etc , all that can disturb downloading process ) .
2.Extract download using programs like 7-zip and winrar , or extract part 001 or part 1 if download is in parts , until you get  image of game ( it can be in various format files  like CCD , BIN/CUE , IMG , MDS/MDF or  ISO , dosent really mater , they are all commonly called ISO ) some games are double packed so if you get like parts 01-50 , just extract part 01 again .
3. It is advisable that you first  test game on emulator ( ePSX and PCsx2 ) to make sure ISO  working  , although some games cant be tested correctly ( like Everquest like games) , since emulators are not perfect
4. If you have FMCB soft modded console you need to patch ISO of game with "ESR disc patcher" ( i reccomend GUIv024a ), without that patch on burned ISO , game will not load on FMCB , will work on chip modded console and with swap trick  ! Patching process is simple  i and takes few minutes to set up/learn how to do it ,  and couple of  seconds to finish  .
5. If you want to burn Double Layered game ISO ( DVD-9 ) you need to patch ISO with Toxic Dual Layer Patcher , you need to have modchip capable of booting DVD9 media for this . Again ,  patching process is simple   and takes few minutes to set up/learn how to do it , and couple of  seconds to finish  .
6.Burned  PS2 games can be played by FMCB exploit , swap trick or installing  chips that allow both PS1 and PS2 games to be played ( some chips support only PS2 games ) , while  burned  games on PS1  can be played with mod chip , swap trick or game cheat cartridges .
7. Next you need burning program , general opinion is that there is no better burning  software for PS1/PS2 games than ImgBurn , so i recommend it  . Open ImgBurn and select "Write Img File to disc" , then turn OFF verify and test options (they are useless and can cause trouble with burning) . Then select burning speed . Consoles (especialy PS2) can be picky about preferred speed , so there is no exact  general rule ( users get to known their consoles favorite after few burns anyway ), but it is recommend  to select burn speed to between x4 and x8 for  PS2 DVD   based games , while for PS2 CD based games and PS1 games it is between x10 and x16 .  All other seatings should be left on default .  
8. About media ,  it is recommended to use CD-R and DVD-R disc only , +R are mostly hated by both PS .  NEWER use +RW ( except for short testing purposes) , even if you manage to load game , it will wear both your disc and laser of your PS VERY fast ! Brand dosent mater much  , since most brands are printed in same factories who just stick various brands on their discs , factory where disc is made is important ! For example , Maxell sell  in UK are good , ones sell here ( Balkans ) are crap  , but we have good Sony discs here . So , look not at brand as much , look for origin of disc , avoid : Singapore, Taiwan, India, United Arab Emirates (UAE), China .  This page can also  help a lot ,  site  link : 
http://www.digitalfaq.com/reviews/dvd-media.htm
ImgBurn can be used to determine disc info to , just insert disc in PC and start ImgBurn , you will see lots of info about Disc in large window above write speed selection .
9. Now, to burn game Inset BLANK disc in your burner . Make sure to insert CD for PS1 and CD based  PS2 games (under 700 MB size) and DVD for DVD  PS2 based games (above 700 MB size).  Then in ImgBurn click "File" , then "Browse source file" (or  click "Source" , same drill) , then navigate to game ISO and select it . Dont worry to make mistake , ImgBurn is very smart program , it auto fix your mistakes , so if you made mistake like  select BIN instead CUE , it will auto fix you and warn you to not do it again . Now under destination select your  burner (it is set as default usually) . Burn speed is also limited by your burner , so , ImgBurn will auto correct speed if your Burner cant support selected speed , and it will inform you of change and what your burner can support .
10. All set ? OK , click on BURN  icon under test/verify option , looks   like paper and arrow to  Disc)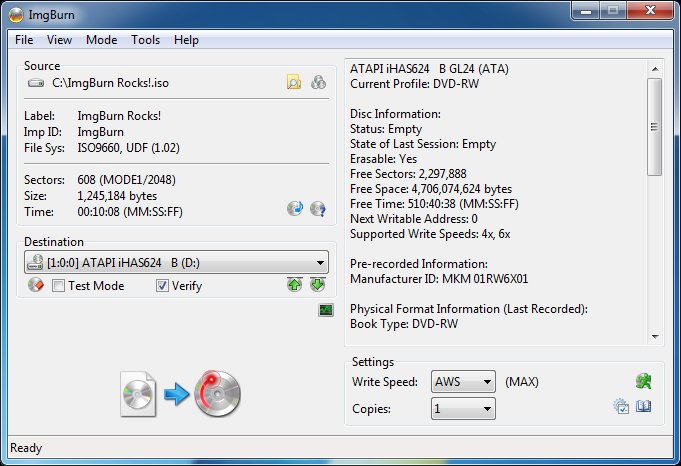 You may be notified  by ImgBurn that some setting is auto changed by him  , confirm that you accept ImgBurn changes and start burning . Then wait , it can take from 5-30 minutes , depend on burn speed , size file  , you burner and what you do on PC in time of burning . As with download process  tip under 1. , dont do hardware demanding activities during burning , it may disturb burning ( slim chance for that truth be told with burning  , but still it is chance ) .
11. Go play !
Tips and advices :
Some games have copy protection ( example , Spyro 3 ) and cant be just "burn and play-ed" like majority of rest  , they need to be patched with kill protection or workaround  patch , for such games you need to do little Google-ing  around .
Some  models of PS2 ( Last Phat model and one of first Slim , if i remember correctly ) have sneaky anti piracy Mechalcon  , when they detect bad media , they INTENTIONALLY send to much power to laser to wear disc and make it unusable . You can know that you have one if your new burns work fine at first ,  but  play bad or refuse to play after short while ( few hours or days ) ,  it looks sorta like this :
One Remedy for this is to use better discs  ( there is better way ,Hardware solution but i forget how it is called , 
Voultar 
knows much better than i do ) .
  You can play burned games from other region to ( even modded/pached   games )  all you need is  SCART adapter   , and for your TV that  can support other region to . 
For FMCB users ,  Insert FMCB card in slot 2 and keep it there, and insert save/s card in slot 1, never save games on FMCB memory card , back-up you FMCB card, only official SONY card can be used , dont mess with FMCB settings if you dont know what you doing or you have researched it well .
If you fail to start game and you did ALL by the book , possible reasons can be :
-bad ISO -  try some other ,
-bad/weak PS laser -replace it/try pot tweak ,
-bad burner -try other burner/other PC .
This post was last modified: 03-15-2019, 08:45 AM by SasaPinjic. Edited 1 time in total.