OK guys I am still in the planning stages (Read my stepson has not moved out yet) of my game room.
So I created some guides for myself to follow when assembling everything.
Let me know what you thing and if there are any improvements that can be made. 
Here is the power setup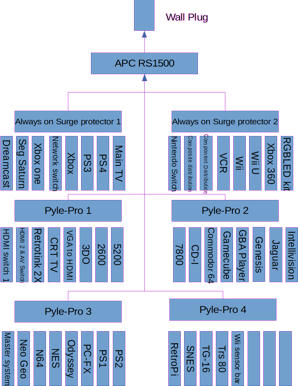 They Pyle-Pros are rack-mount surge protectors with switches on the front to control the individual plugs.
Here is the AV setup.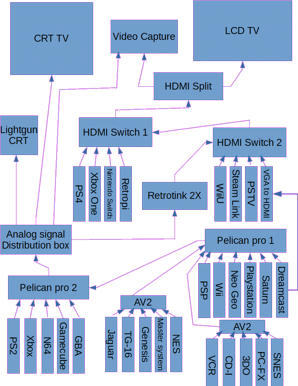 The Dreamcast can display via VGA or Svideo because of the Av box I have on it.
The RF systems work via a Sony DVD/VCR combo that does a good job accepting RF without interference and outputting it as Component to the rest to the system. 
I used Libreoffice Draw to get all of this done. It is free for everyone. If you want a copy I would suggest going to Ninite.com to get a clean version. 
Thanks for all the help and feedback.